Az interjú az alábbi linken érhető el: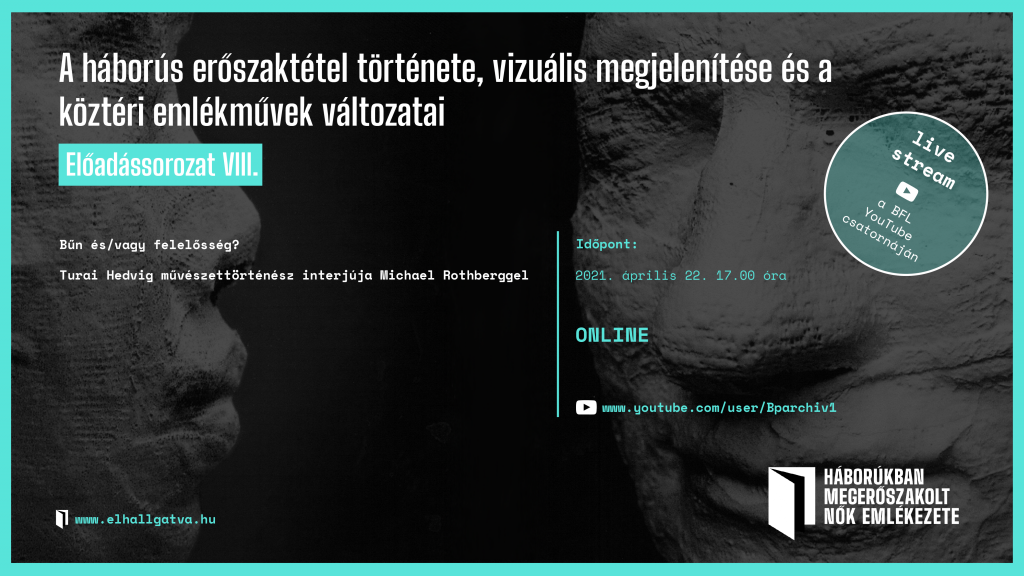 Bűn és/vagy felelősség?
Turai Hedvig művészettörténész interjúja Michael Rothberggel

Michael Rothberg a University of California Los Angeles 1939 Society Samuel Goetz professzora, holokauszt kutató és összehasonlító irodalomtörténész. Traumatic Realism (Traumatikus realizmus) és a Multidirectional Memory (Többirányú emlékezet) kötetei paradigmaváltást hoztak az emlékezeti diskurzusba, számos nyelven megjelentek, néhány tanulmánya magyarul is olvasható. Az emlékezetet nem zéró összegű játszmaként fogja fel, amelyben az egyik emlékezet kizárja a másikat, hanem rámutat a történelmi összefüggésekre, az emlékezet összefonódó szálaira. Az interjú elsősorban legfrissebb, The Implicated Subject. Beyond Victims and Perpetrators című könyve köré épül, hisz ebben számunkra különösen égető és rendkívül aktuális kérdéseket vizsgál. Mi közünk a nagyapák, nagyanyák bűneihez, ahhoz, amit nem mi követtünk el, de történelmi örökösei vagyunk, mi közünk a távoli szenvedésekhez, a gyarmatosításhoz, vagy a háborúkban megerőszakolt nők emlékéhez, a sok feldolgozatlan, elbeszéletlen történethez? Rothberg nagy figyelmet fordít a kortárs művészetre is, s azt olyan gazdag terepnek tekinti, amelyet a holokauszt kutatás sem nélkülözhet. Nem takarja el érintettségét, nem kerüli meg a tabusított témákat, s ettől a személyesség izgalma hatja át mindazt, amit mond.
Az esemény Budapest Főváros Önkormányzata, a Budapesti Történeti Múzeum és Budapest Főváros Levéltára együttműködésében valósul meg.
A videó 2021. április 22-én 17.00 órától tekinthető meg Budapest Főváros Levéltára YouTube csatornáján!